Hangzhou, the capital city and the most populous city of Zhejiang province, is one of the most modern cities in china. The city has been rated many times by Forbes as the best commercial city in mainland china. Hangzhou offers various opportunities of jobs for foreigners in china. Here is everything you need to know if you want to work in Hangzhou.
Why work in Hangzhou
There's an old Chinese saying that goes: "Up in heaven, there is paradise; down on earth, there are Suzhou and Hangzhou." For many years, Hangzhou has been attracting professionals from many parts of the world looking for work in China not only because of its natural beauty comparable to a paradise on earth but also because of the city's fast growing economy. Hangzhou also attracts a considerable number of job seekers from Chinese first tiers cities like Beijing, Shanghai and Shenzhen because of the many opportunities offered especially in the field of new technologies.
Hangzhou accounts for nearly a quarter of provincial economic output. There's a strong presence of IT and internet companies in the city. Many firms are attracted by the very good business and investment environment, lower office set up costs than Beijing and Shanghai and competitive government incentive taxes.
How to find jobs in Hangzhou
Hangzhou offers many job opportunities for foreigners thanks to its rapid economic growth. Finding a job in Hangzhou wouldn't be difficult especially if you have new technology skills that are in high demand. There are also many opportunities in Education for English teachers. Just as in Beijing, shanghai, shenzhen etc this city offers so much opportunities for international talents
The easiest way to get a job is through a contact who works for a company that might be looking for someone with your skills. If you don't have a contact, you can get a job through job listing platforms. Multinational companies usually advertise on LinkedIn or websites like www.monster.com, Chinese companies prefer to advertise their jobs in local sites. Some of the most popular are www.chinahr.com, www.51job.com; most of them are in Chinese. If you're not fluent in Chinese you can visit sites that advertise in English like www.orientalcareer.com and others. If you're already in China, you can also check out the local newspapers or attend job fairs.
You can also find a job through internships; most internships in China are unpaid but sometimes can lead to a full time job. Although it's not always required, a good level of Mandarin would be a plus if you want to work in Hangzhou.
Average salaries in Hangzhou
A person who work in Hangzhou has an average salary of 1,550$ per month. Average salaries in Hangzhou vary a lot depending on the education level and work experience ranging from 1,170$ to about 20,700$.
Here are the average salaries forsome of the most popular professions in Hangzhou:
Accountant:1,260 $/ month
Electronic engineer: 1,750$/ month
Software engineer: 1,840$/ month
English teacher: 2,450$/ month
Cost of livingin Hangzhou
Overall life in Hangzhou is not expensive compare to North America or Europe. However some imported products like cheese can be very expensive. As a foreigner, the cost of living can be very cheap if you consume local products and use public transports.
Utility bills are not very expensive and can cost you around 50 $ per month.
Accommodation in Hangzhou is not very expensive too. Most employers provide accommodation or an accommodation allowance for their foreign employees. Rent prices vary depending on the location. The average cost for a one bedroom apartment around the city center is 600 $. Outside the city center the rents are cheaper, around 350$. Prices usually vary depending on the season and the demand.
Where to live in Hangzhou
Where to live in Hangzhou depends on your budget. Here are some of the most popular neighborhoods for foreigners who work in Hangzhou:
•Shangcheng District: close to the West Lake, it is located in the core urban area of Hangzhou.
•Xihu District: named after the West Lake. Some of the best hotels in Hangzhou are located here.
•Binjiang District: a modern neighborhood located across the Qiantang River from West Lake. Binjiang is home to many major Chinese firms including Alibaba, NetEase and others.
Teach English in Hangzhou
Hangzhou is one of China's most popular destinations for English teachers. Most teaching jobs require a bachelor degree and an English native level proficiency. There are many positions available in language centers, High schools and universities.
English teaching job salaries may vary depending on the employer and experience but most schools offer good salaries that can allow you to live comfortably in china and travel around Asia.
Most schools provide accommodations, health insurance and other benefits to foreign teachers.
What to see in Hangzhou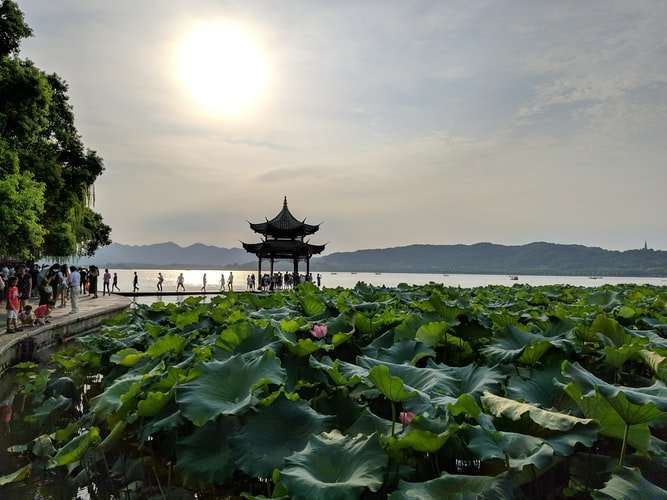 Hangzhou is said to be one of the most beautiful cities in the world. The famous Italian traveler Marco Polo praised the city describing it as: "Beyond dispute the finest and the noblest in the world". There are many attractions to visit if you work in Hangzhou including:
The West Lake (Xihu): The West Lake is definitely the most popular touristic site in Hangzhou. UNESCO declared it a World Heritage site in 2011. The West Lake is located in the southwest of Hangzhou and covers an area of 6.39 square km and comprises of pagodas, temples, pavilions, gardens, causeways, and artificial islands. Many Chinese poets and artists have praised the beauty of West Lake.
Leifeng Pagoda: it's located near West Lake. The Leifeng Pagoda was originally built in 975 before collapsing in 1924 due to lack of maintenance and then rebuilt in 2002. Underneath the new Pagoda, you can see the remains of the old Pagoda.
Lingyin Temple (Temple of Soul's Retreat): it's one of the most famous and biggest Buddhist temples in China and is considered as a leading center for Chinese Buddhist culture research. The Lingyin Temple is located between Fei Lai Feng and the West Lake. The temple holds the largest statue of the Buddha Sakyamuni in the lotus position.
Xixi Wetland Park: located in the western part of the city and about 5 kilometers from the West Lake, Xixi Wetland Park has a history of more than 4000 years and considered as the birthplace of the Hangzhou culture
Companies Hiring in Hangzhou

Securing Visa for Work in Hangzhou
Teaching in Hangzhou
Websites to Find Hangzhou Jobs