7 Big Differences between Resume and CV You Must Know
When the moment to apply for jobs arrives, do you think of preparing a resume or a CV? If the answer is "No", you should start considering it. In some cases, both are synonyms, after all, they have the same purpose. Although, in some others, they're different.
This can be particularly confusing when you're applying to work abroad or each company has its criteria. But, don't worry, here you'll learn the key differences between resume and CV. This will help you prepare the right document for your job applications.
Table of Contents
Resume (Definition, Content, Types, and Example)
Curriculum Vitae (Definition, Content, Types, and Example)
7 Differences between Resume and CV [+ Comparison Table]

Length
Type of information
Function
Customization by role
Writing style
Chronological order
Geographic location

When to use Resume and CV?
Tips & Final Thoughts
Resume
It comes from the French word Résumé, which means summary. It's a straight-to-the-point document. You should keep it as concise as you can and customize it for each job you're applying to.
In a resume, you only highlight specific aspects of your work experience and skills relevant to the position. It is usually accompanied by the submission of a cover letter, which states your intent for the job. Resumes are the most common documents requested by employers. Stand out on your resume!
Content
Personal information (name, address, phone number, and email);
Title of the position that applicant is looking for;
A summary statement (a short 3-5 sentences paragraph that highlights job-related skills, experience, and accomplishments);
Employment history;
Core competencies;
Prior information about studies and training;
Extra sections (awards, licenses, certifications, etc.).
Types
Chronological: It lists your work experience in descending chronological order, starting with your most recent position. Most employers prefer this format.
Functional: It emphasizes skills and experience over employment history. Use it when you're planning to change your career or don't have enough work experience.
Combined: It's is a mix of both chronological and functional formats. The format highlights your skills and experience before listing your employment history in descending chronological order.
Targeted: As its name suggests, it's a customized document that highlights your experience and skills for a specific job position. This format requires more preparation as it's tailored to one prospective company at a time.
Example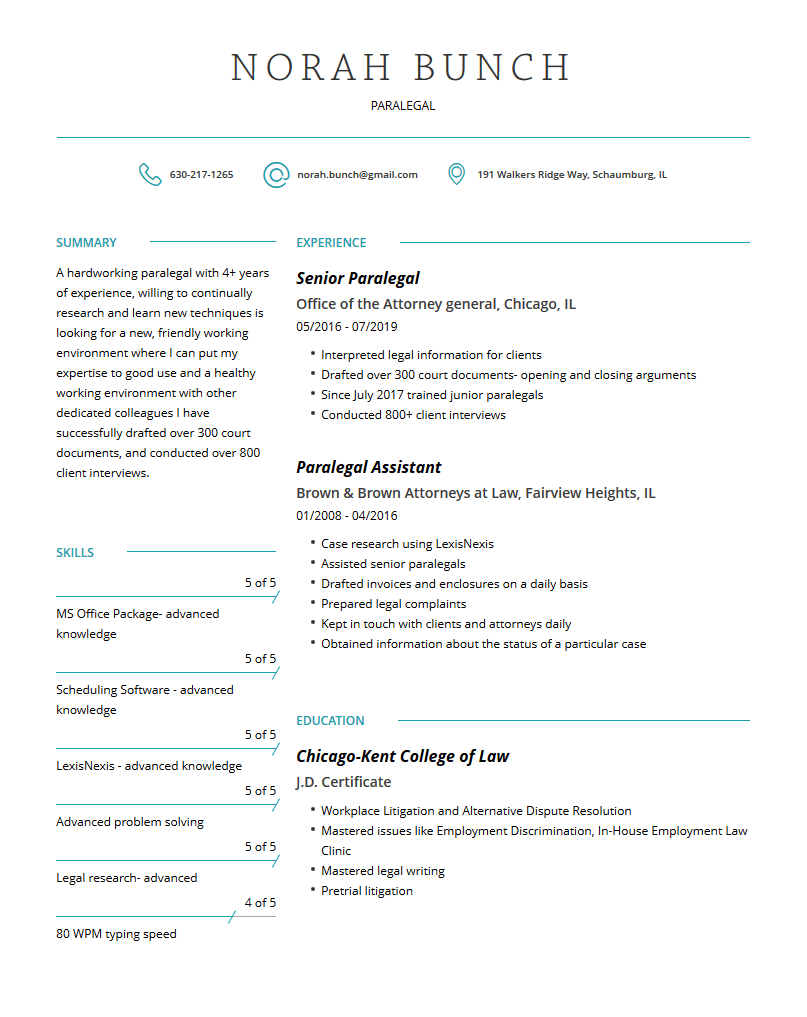 Curriculum Vitae (CV)
A CV is the abbreviation of the Latin word Curriculum Vitae, which means "course of life". This piece of writing describes in detail your career journey. All you have done so far as a professional.
It's like a diary that can be updated as you go through your career path. But, CVs are static and don't change for different positions. The difference would be in the cover letter. Furthermore, there's no rule on its length since it depends on the amount of experience you have.
Content
Personal information (name, address, phone number, and email);
Personal statement (a brief overview of your professional background and career objectives);
Information about your education (dissertation or thesis, awards, scholarships, honors, etc.);
Work experience;
Technical and personal skills;
Language fluency;
Internships and special training;
Professional Memberships or Affiliations;
Publications and research projects;
Extra Sections (references, certifications, interests and hobbies, community service or volunteering, etc.).
Types
Chronological: The most used format. It lists your work history starting with the most recent position. Use it when you want to highlight your skills and project experience.
Functional or Skill-Based: Focus on your skills and work experience, instead of chronological work history. It's recommended for fresh graduates that don't have work experience, professionals that have gaps in their career history, or those who want to change careers.
Combined: A combination of both chronological and functional CVs. This format helps you highlight your skills and provide a chronological work history.
Academic: It's used in postgraduate applications, emphasizing the subjects studied, academic projects, grants and fellowships, details of research expertise, and a list of publications.
Example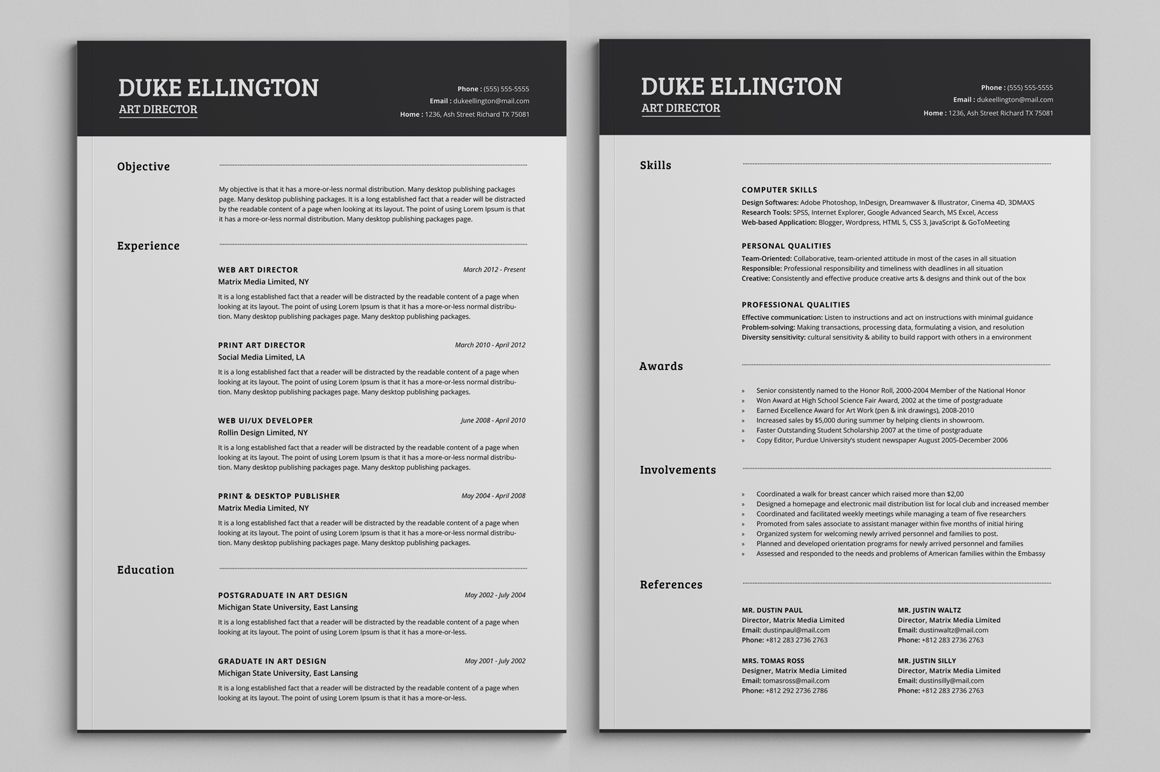 7 Differences between Resume and CV [+ Comparison Table]
International CVs are structured and formatted more like resumes. This is the reason why in most cases both concepts are interchangeable. Yet, each one has specific characteristics you must take into account.
1. Length
One of the most notable differences between resume and CV is that the former has up to two pages, while the latter can be longer than that.
2. Type of Information
A resume is tailored to the specific job you are applying to and focuses on your relevant skills and professional achievements, rather than academic ones. However, a CV is a comprehensive overview in which you include all your academic qualifications, achievements, and publications.
3. Function
A resume is used for job searching in both private and public sectors such as industry positions, business, non-profit jobs, etc. CVs are mostly requested by employers that need a more detailed version of a resume, with extra pieces of information. Although, in some countries, CV is exclusively used for jobs in academia (research programs, fellowships, postgrads, teaching positions, etc.).
4. Customization by role
Resumes are highly customizable documents; while in the CVs, information generally stays the same.
5. Writing Style
Resumes are written in short and effective sentences using action words. Instead, CVs can be written in a more detailed and complex way.
6. Chronological Order
A resume's information can be shuffled around to best suit the applicant. CVs have a clear chronological order listing your whole career.
7. Geographic location
Until this point, you have a general idea about the differences between resume and CV. However, if you're planning to get a job abroad, you need to know in advance which one is more suitable for each country or region. This can be tricky, but not too difficult as you may think.
North America: To apply for different fields in the public and private sector, you need to prepare a resume. For jobs in academia, scientific research, and medical fields, you need to submit a Curriculum Vitae with a comprehensive list of your education, research experience, and professional memberships. In both cases, don't include age, gender, marital status, race, and religion due to anti-discrimination and labor laws.
Europe: Employers expect to receive a CV, often with an attached professional photo. This is equal to a resume-style document. Even the European Union created a CV format available for download.
South Asian countries: Resume and CV refer to the definitions as in North America. But you'll often need to add a document called "biodata", in which you include: date of birth, gender, race, ethnicity, marital status, and salary.
In China, Resume/CV content and format are similar to those of the international standards, but there are still a few differences. Employers expect to see more personal information like your date of birth, gender, marital status as well as the number and age of your children, and a headshot. Also, educational information is an important part of it.
In Australia, India, and South Africa, both are synonyms and stand for a brief, one-to-two-page document. Although, the resume is used more for jobs in the private sector and CV in public service positions. Specifically, Australians prefer to use the word "resume", and companies in South Africa require that you provide your ID number and ethnicity.
New Zealand: They use the term CV to describe an equivalent of a US resume.
Comparison Table
It's time to review what you've learned so far. We prepared a comparison table so you can easily identify the differences between resume and CV.
Characteristics
Resume
Curriculum Vitae
Types
Chronological, functional, combined, and targeted.
Chronological, functional, or skill-based, combined, and academic.
Length
Brief – Max. 2 pages
Comprehensive – No length limit
Type of Information
Tailored to a specific job.
Focus on relevant skills and professional achievements.
Work experience, academic qualifications, achievements, and certifications.
Function
Industry, non-profit, and public sector
Academia
Customization by role
Highly customizable
Static
Writing Style
Short sentences
Action words
Written in a more detailed and complex way.
Chronological Order
Doesn't have to be ordered chronologically.
Often formatted in chronological order.
When to Use a Resume or a CV?
Now that you master your knowledge of both concepts, it's inevitable to ask, when to use any of them?
First, you need to ask yourself the following questions: What kind of job are you applying to? What's the employer looking for? Where is the company based? Once you answer them, you'll be able to decide accurately which one to prepare.
Knowing the industry you'll work in (function) as well as the country where the company or organization is located (geographic location), you can come up with the right document. And you already learned from the previous section that this decision is mostly determined by differences #3 and #7.
Still, you must verify the job application requirements of the employer before preparing your document. You can even ask an HR representative to help you. Then, review the differences between resume and CV and go for the most suitable option.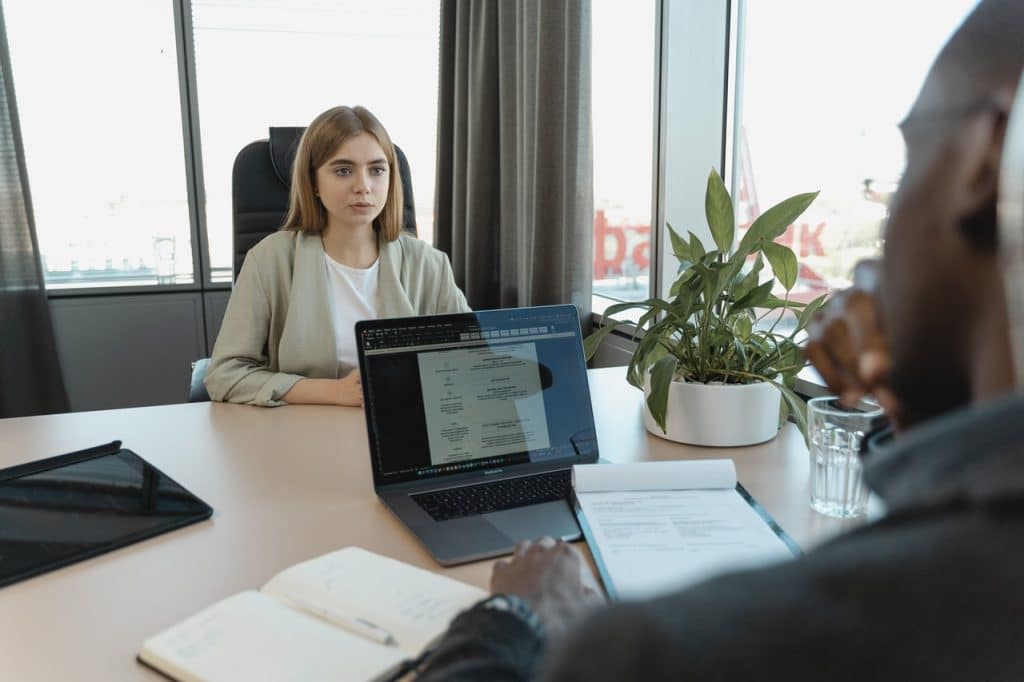 Tips & Final Thoughts
In these few minutes, you've learned that resumes and CVs have specific levels of detail. Their main differences are length, function, and geographical location. Although, both show a concise picture of your experience and skills.
About the content of each one, you can decide what information is more relevant to include by understanding the advertisement for the position you are looking for. It's essential you show the hiring manager how you are qualified for the job and what you have to offer them.
As the last piece of advice, despite the differences between resume and CV, when writing any of them, you must keep the cultural context and standards of each employer in mind.