How to Write a Resume – Guide + Resources
Write a resume; get it right once and for all. I will let you in on one secret; you are just a great resume away from your dream job. At first glance, it is easy to see that resumes are not the most thrilling design to observe. They are blank and very bare. Though they might be plain, much goes into the structure of a resume most might not know. The information provided on a resume is important but so is the design. Dont forget a professional Resume goes with a 'bad ass' cover letter
By taking the time to refine your resume, it multiplies the chances of you standing out from the rest. Here are five design principles that will help your resume rise above all the rest.
What is a Resume
A resume summarizes the job-seeker's experiences, professional or personal achievements, educational background, hard and soft skills, portfolios, and other records are deem fit. It helps hiring managers to understand job applicants quickly.
Build a Resume with a Consistent font style
Technically there isn't any wrong way to have a font presented on a resume as most resume fonts are in Times Roman. The use of one single font throughout a resume is one of the most subordinate things to do on a resume. With so many font styles to choose from, it would be imperative to use at least two styles on a resume.
In the resume template below, you will identify a combination of font two/three uses of fonts.
One font that is primarily used on resumes is Sans serif, as it is still used in more traditional and old school industries. A font style that you should avoid is the use of child-like fonts such as comic san, especially in an industry setting.
Write a Resume with Visuals
Adding visuals can take your resume to the next level. Visuals give the reader an optical explanation that sometimes words have a hard time doing. Utilizing a combination of icons and data can create a unique resume and distinguishable it from the rest. Using visuals should be utilized by individuals who do not have a wide range of experience. The hiring manager will see this as creative and innovative, two practical skills that jobs look for in individuals. Remember, do not forget who your audience is. A highly graphic resume might not suit hiring managers for a role such as an Administrative Assistant; instead, it would fall in line with a graphic designer.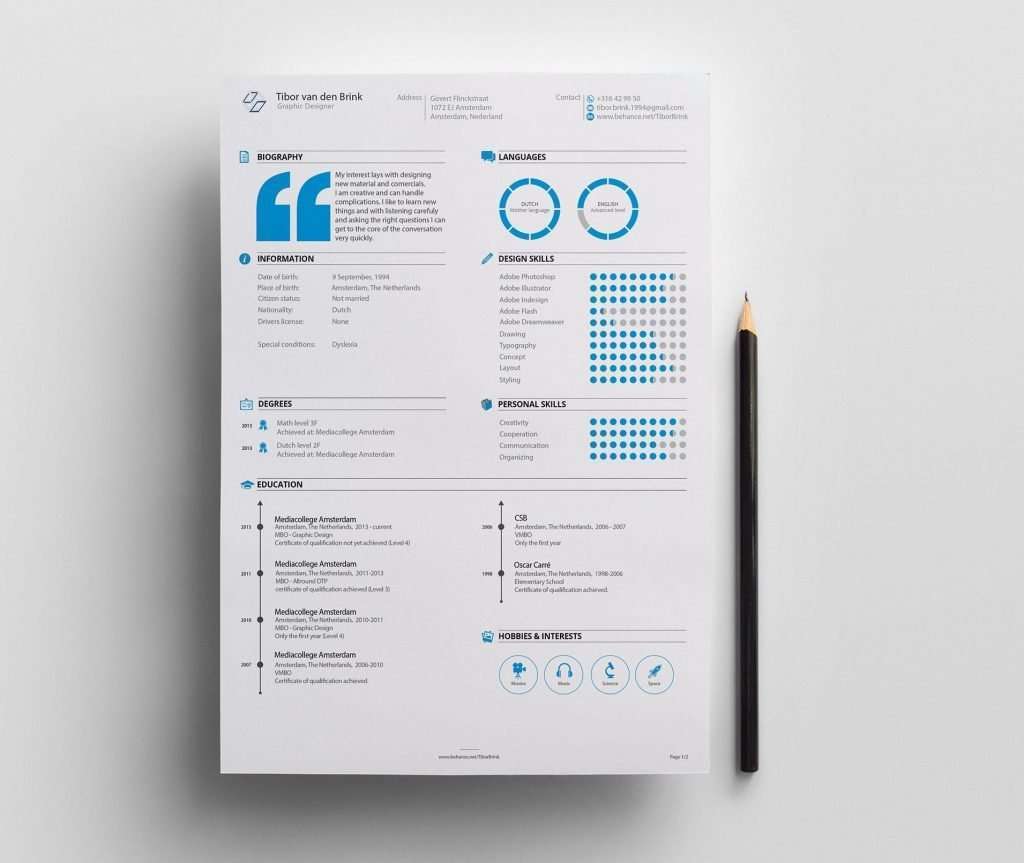 When it comes to resume, one thing is for sure to not go over the top, meaning no neon colors or even glitters. These resumes are likely to stand out, not in the fashion you would like, however.
Most companies in the 21st century do not only care about your experience. They look to see if you would be an excellent fit for the workplace culture, and the design of a resume might help accomplish it.
Your Resume audience
The theme of a resume seems to be knowing the audience you are applying with; this should influence your resume's design. A traditional job such as a publisher would call for a conventional resume design, whereas a graphic designer's resume would need a pop of color, so to say, on a resume.
Example of a traditional resume and a less conventional resume
If you are applying for a job in the corporate world, it is best to leave the pop of color for those in the graphic design world. Be sure to create multiple resumes that align with the appropriate ones that target the relevant companies.
Skimmable resume.
It only takes six seconds to draw the attention of hiring managers. This simply means that your resume should be skimmable; that way, readers can identify skills and experience. The use of columns is one way to catch recruiters' attention, which creates a less cluttered feel to the resume. Again the use of an infographic can add a certain charm to a resume.
Skimmable resumes do not mean you would have to leave out a particular aspect of your resume. This just infers that the resume arrangement helps recruiters that are often over-exhausted by words enjoy visuals from time to time but make sure to know your audience.
Insert Example
Write a Resume and Decide the Filing type
One of the simplest things, such as the file type, can play a pivotal role in sustaining the information you have created. PDF is the only filing format that you should save your resumes under as there is no impending risk of your resume being messed up when it gets to the hiring manager. Another thing to look out for is renaming files before sending out the resume to the employer. I know we have all been guilty of not double-check and mistakenly sent a resume to employers with names such as:
"John Hancock_Google Tech resume.doc"
This should be avoided at all costs. Always double check your work either by a professional or mentor if need be.
Write a Resume Resources
3. How to write a Resume and Stand out
4. The Perfect Resume Looks Like This
5. 7 Things Your Resume Is Missing